Side Project Skateboards
brand stewardship

Side Project Skateboards
(est. 2013) is my own creative outlet and exploration. As the founder, creative director, and craftsman behind the brand, I've built SPS from an after-hours passion project into a globally recognized brand through constant risk, experimentation, and collaboration.
Evolving visual identity

With every collection, SPS explores new creative territory. This can be rooted in product experimentation (e.g.
the indigo collection
in which I developed my own homemade woodstain using 100% natural indigo powder) or the aesthetic direction.
Art direction & photography


Meaningful collaboration has become a core tenet of the brand—and is most often explored in partnership with photographers. These partnerships have culminated in countless shoots inspired by coffee grunge, stark minimalism, fashion noir, magical realism, vintage film, etc.



Website design
I've designed several iterations of the
SPS website
, constantly refining them to reflect the brand vision and values as they mature. The current site also features a streamlined
ecommerce interface
,
downloadable press kits
, and rich insight into the brand's evolution.
MANUAL editorial project
Still in progress, I'm in the midst of a year-long collaborative project alongside 12 photographers around the US. The concept is simple: SPS is a catalyst for creative exploration. I crafted a single skateboard and am sending it to each photographer, who has one month to use and/or photograph it as they please before sending it off to the next photographer. It's a totally open brief. The only challenge is to take creative risks. This project will culminate in a hardcover coffee table book, featuring the artifacts of these photographers' personal explorations.
Print propaganda

Every skateboard I make is editioned and entirely one-of-a-kind (e.g. there are no duplicates of any design). My printed materials channel this diversity to celebrate the many aspects of the brand in print, ranging from current lifestyle photography to uploaded film negatives of my father-in-law/woodworking mentor skating back in the 60's.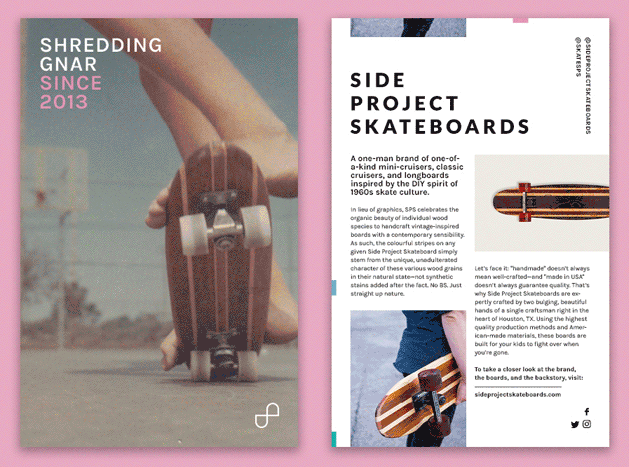 Collaborators
Graphic design
David Rygiol
,
Dan Rayfield
,
Drake Preston
,
Daniel Pagan
Photography
Brandon Voges
,
Adrian O. Walker
,
Brian Cummings
,
Christian Gideon
,
Kasper Løftgaard
,
Melissa Laree Cunningham
,
Lauren Marek
,
Henry O. Head
,
Joshua Anderson
,
Yana Yatsuk
,
Weston James Palmer
,
Kirk Chambers,
Noah Sahady
,
Kirby Gladstein
, &
Jeff Blickenstaff